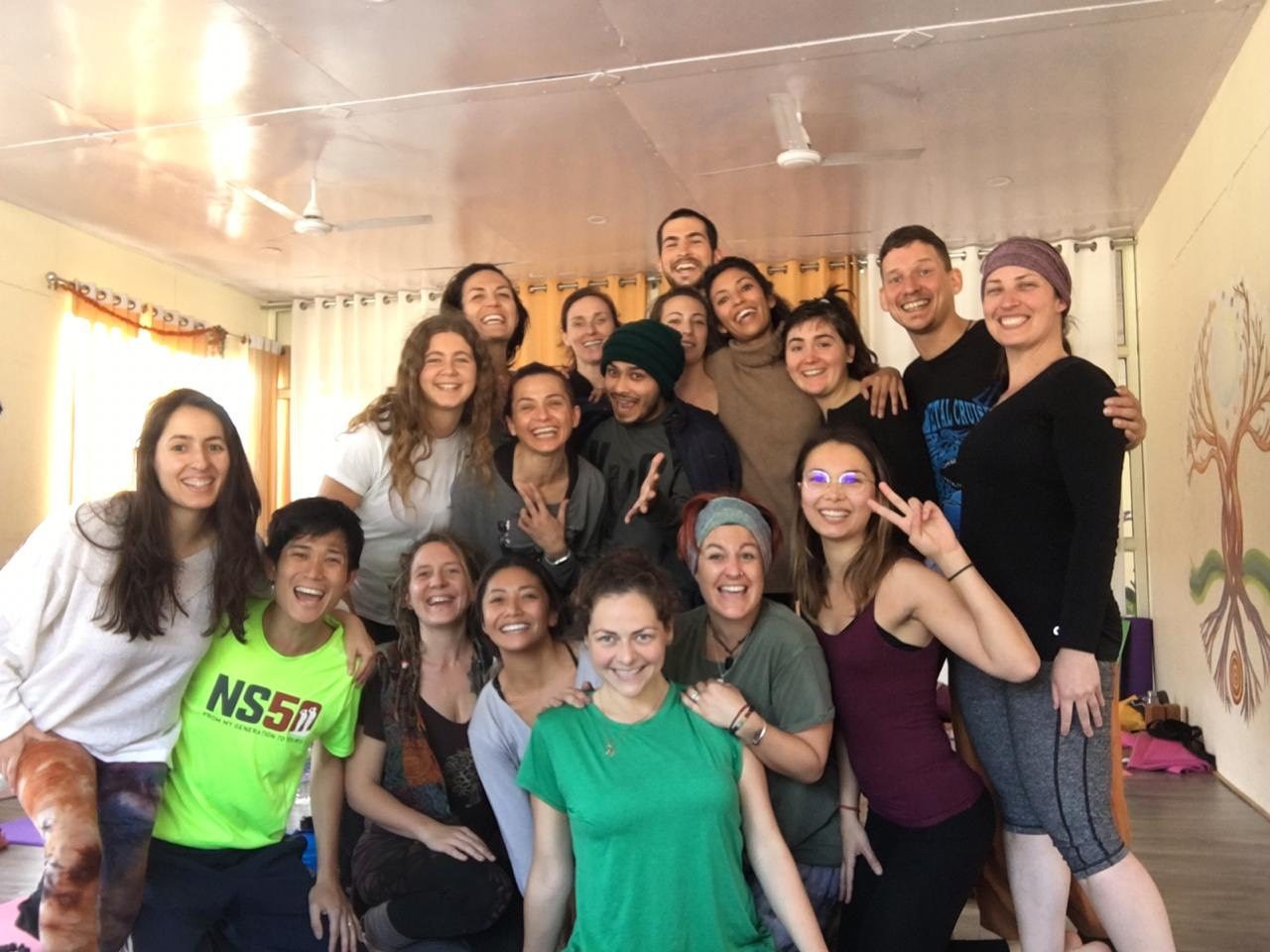 How My Yoga Teacher Training in India has Helped me to Find Inner Peace
A short intro about myself: I'm Lisa. 26 years old. From Lyon, France. Studied something with culture and management. Introvert yet quite outgoing. My nine-to-five-job almost killed me.
After my studiesgned my first working contract at a cultural centre in Paris. The work was fine in the beginning, but the repetitive and unmoti, I sivating atmosphere had a big impact on me. I thought that "this was it" and that I will be doing this kind of work my entire adult life.
I accepted the fact that this was going to be my normal everyday routine.
When I met John, everything changed. I met him as a young freelancer, globetrotter and yoga lover who showed me that there is more in this beautiful world.
John introduced me to his yoga teacher in Paris. We took weekly classes there and I was surprised of the peaceful feeling that I gained during a 60-minute class.
Do you know this feeling when everything stands still and you just feel so present and content?
This feeling was something that inspired me to make a change in my life.
I'm not joking when I tell you that I quit my job within 3 months. Something inside me told me to find out more about this feeling. I wanted to learn more about myself.
It's funny that you learn so many things at school, at university, at work; but nobody teaches you about the things that matter the most: how to be happy, how to find peace, how to calm your mind.
John and I decided to travel together and share a journey of finding out more about ourselves.
This beautiful choice led us to the magical Himalayan city Rishikesh, India.
Rishikesh is a dream, honestly. For some people it may be overwhelming, for some people it may be too much, for some people (like us) it was simply amazing. The time stands still here and there is no rush. You eat when you are hungry, you sleep when you are tired. Not being caught up in between appointments became a manifestation of freedom and relaxation.
We checked in at Yoga India Foundation on 31/10/2018 for our Yoga Teacher Training in India.
John and I committed to a month of full yogic immersion.
For me, the yoga teacher training in India was an eye-opening experience. It was an investment into my soul, a holiday and purification of my mind and body.
Studying yoga in India is something that I can recommend to everyone. I'm not underestimating when I say that you won't believe me until you experience it yourself.
I learnt to go with the flow while adapting to my nature and learning about my true self. Everyone is different, you know.
What suits me, may not suit you. What you like, may not trigger me. It's wonderful that we are all so different.
Everyone has his or her own desires, talents, strengths and weaknesses.
In the yogic journey, you learn to accept yourself as you are without judgement. You can work on your weakness, enjoy your strengths and go with the ups and downs of life.
In life, nothing and yet everything is perfect.
We can't always fly high and be lucky. Sometimes life throws challenges at you which you can use to grow.
I always remember my teacher saying to me:
"Children naturally have this sparkle full of light and curiosity. When they fall, they stand back up as if nothing happened. When you fall, use your intelligence to get back up. Learn from your mistakes, continue to thrive and grow."
We are all in this world for a reason: and this reason is not to be depressed and rat race.
Don't you think that we should be happy and live our lives with joy?
During my yoga teacher training in India, I truly connected with myself. My mind changed from being restless and hurried to calmer and more quiet.
It's true when I say that I learnt more about life, myself and body in one short month than in my entire life before.
Joining a yoga teacher training in India gives you various subjects on how to implement peace into your daily life.
You learn about asana, pranayama, meditation, food, Ayurveda, breathing, emotions, anatomy and the philosophy behind yoga.
It's so diverse. It's so enriching and transforming.
I didn't come to India with the intention to teach yoga but to learn about it and gain peace.
I found what I was looking for.
John and I are still traveling now while I am writing these lines. Currently we are on Gili Air, a small and really shanti (peaceful) island in Bali.
What will happen after our travels? We don't know yet. We will probably combine our work and travel life and continue to thrive for happiness and a good mental health.
Because what makes life enjoyable? A happy me and a happy you.
About Lisa:
Lisa is a 26 year-old yogini who is on her journey to share her passion of yoga and self-love. She discovered her talent for drawing and singing while taking up a yoga teacher training in India.
With her boyfriend John, she travels Asia and tries to progress in her yoga practice.
Life motto: "We came to this world for a holiday, so enjoy this beautiful journey!"