300 Hour Yoga Teacher Training in India
Our 300 hour yoga teacher training course is designed for Yoga Teachers (RYT 200) who have completed a level 1 200 Hour Yoga Teacher Training with a Yoga Alliance approved school before. The 300 hour yoga teacher training is a highly intensive 25-day course that covers topics such as teaching practice, yoga alignment and adjustment, advanced postures, meditation, pranayama, nutrition, Ayurveda, shatkarma, karma yoga, in-depth philosophy study, yoga anatomy, and Emotional Blockage® Treatment.
Emotional Blockage® Treatment is a technique by Bipin Gyan to release accumulated energy blockages and past problems from your body and mind.
During the 300 Hour Yoga Teacher Training, we focus a lot on teaching different adjustment techniques using belts, bolters, blocks, walls, and ropes. This helps you to teach your own classes with more variety and adjust and modify the poses to your students' ability. We also aim to increase your confidence in teaching with ease, joy, and love.
You are cordially invited to take your personal and professional yoga practice to the next level.  Whether you have taught big groups or one-on-one sessions, this yoga teacher training will pick you up from where you are at.
Our 300 hour yoga teacher training course is registered with Yoga Alliance. After completing your 300 Hour Yoga Teacher Training with us, you will receive a Yoga Alliance certification. You can then register as an RYT-500.
Throughout the course, we provide a vegetarian diet. Our meals are always freshly prepared to ensure a maximum energy level for you.
Classes are held Mondays to Saturdays from 6 AM to 7 PM. On Sundays, you can use your free day to relax and rejuvenate.
How this Yoga Teacher Training can benefit your personal and professional life
During our 300 hour yoga teacher training, we focus on your individual progress so that you become ready to take the evolutionary step in your career as an inspiring and confident yoga instructor. We provide a strong practise curriculum and encourage you to build a complex knowledge on top of your existing one.
We use practical, theoretical and interactive teaching methodologies in a safe and supportive learning environment.
Throughout the yoga teacher training, you will benefit from one-on-one guidance and feed-back so that you can expand your perspective and evolve as an individual and teacher. Small group sizes encourage a personalised setting and attention to correct and hands-on alignment.
The focus on the teaching practise will give you many opportunities to build more confidence and incorporate your new knowledge and style into your own 90 and 75min. classes.After many years of teaching international students in co-operation with Yoga Alliance, we have established an excellent 300 hour yoga teacher training Program that fulfills the highest standards for you.
After course completion, you will receive your 300 hour Yoga Alliance certification. With this certification, you can register as RYT 500. After two years of teaching yoga, you will be an ERYT 500 (Experienced Registered Yoga Alliance Trainer).
Overall this yoga teacher training empowers profound transformation and enrichment for your personal journey, relationships and career.
Why you should join Yoga India Foundation
The yoga instructors at Yoga India Foundation are true masters who have been collecting international teaching experiences over the past decades. Besides their Himalayan Yogi lineage, they hold masters of yogic science and PhDs in Ayurveda and Eastern Healing Therapies.
During your 300 hour Y
yoga teacher training in India, you will not only learn the benefits, contraindications and variations of the yoga postures but also how to hand-on adjust your students correctly according to their physical conditions.
You will develop more confidence and learn how to create diverse and interactive yoga classes that are based on your unique teaching style.
We provide small group sizes to ensure an individual and unique learning atmosphere.
Yoga India Foundation is the only school worldwide that offers Emotional Blockage® Treatment as an optional course module during your Yoga Teacher Training in India. This treatment releases accumulated energy blockages from your body and hence removes related tensions, fears and past trauma from your mind.
Through this yoga teacher training in India, you will experience long-lasting and life-changing benefits. Through the removal of energy blockages you will feel much more joyful. With your new knowledge and positivity you will inspire many people around you and become a confident yoga teacher and individual.
What we offer to you AFTER the 300 Hour Yoga Teacher Training
Completing a 300 hour yoga teacher training in India is intense and enriching.
After completing your yoga teacher training in India with us, you can use our one-on-one skype and e-mail service to discuss questions about your yoga career, studio, teaching skills, personal practise and growth. We aim to support and guide you even when you are back at home.
We will answer questions like:
How do I register as RYT 500?
How do I expand my own yoga business?
How do I use my benefits through Yoga Alliance?
How do I reach more students?
How do I organise a yoga retreat?
How can I improve on Social Media?
Our aim is to not only offer the best 300 hour yoga teacher training in India, but also to build up a supportive friendship that you can trust and rely on after the course.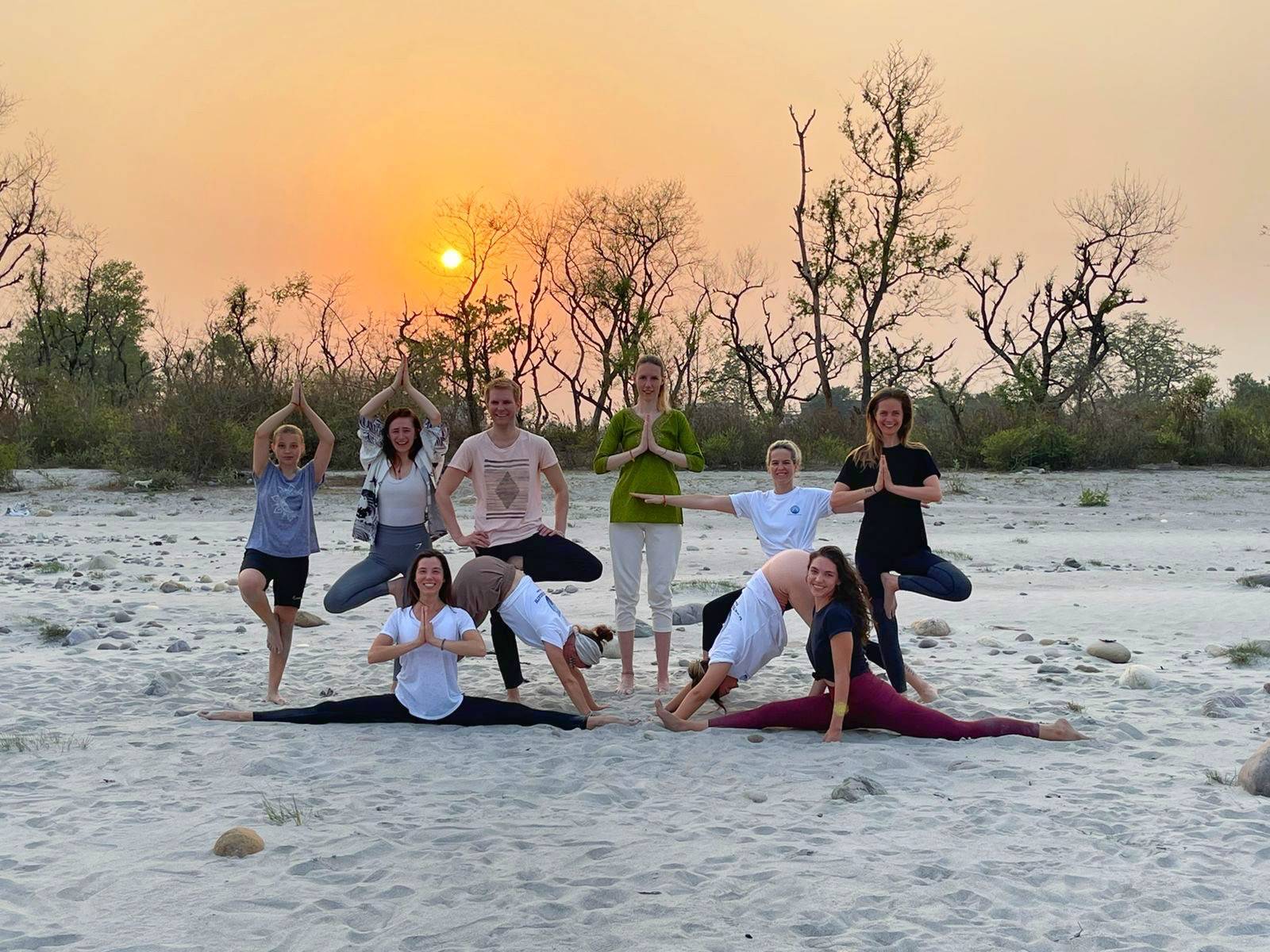 Course Schedule 300 Hour Yoga Teacher Training in India
| Time | Week 1 | Week 2 | Week 3 | Week 4 |
| --- | --- | --- | --- | --- |
| | | | | |
| | | | | |
| | Hatha Asana with Alignment | Hatha Asana with Alignment | Hatha Asana with Alignment | |
| | | | | |
| | | | | |
| | | | | |
| | | | | |
| | Applied Ayurveda + Karma Yoga | Applied Ayurveda + Karma Yoga | Applied Ayurveda + Karma Yoga | Applied Ayurveda + Karma Yoga |
| | | | | |
| | Hatha Asana with Alignment | Hatha Asana with Adjustment | | |
| | Emotional Blockage Treatment | | | |
| | | | | |
Next Available 300 Hour Yoga Teacher Training India 2023 Dates
November 2023:  01/11/2023-21/11/2023
March 2024:  01/03/2024-21/03/2024
300 Hour Yoga Teacher Training in India: Course Overview
The multi-style asana practice focuses on the correct alignment, strength and theoretical understanding of more than 180 postures. Covering both Hatha and Ashtanga Vinyasa sequences will allow you to become more creative and diverse in your own classes. The daily practice will increase your flexibility and elevate your personal practice to more advanced levels.
During the yoga teacher training you will cover:
140 (continued) Hatha Yoga Postures
50 Ashtanga Postures
Alignment for each posture
Contra-indications for each posture
Sequences for Balance
Sequences for Strength
Sequences for Managing Anxiety and Depression
 
2.Pranayama (Breathing Techniques)
Pranayama is an ancient breathing technique that was first mentioned more than 5000 years ago. Through the control or modification of breath, the practitioner can release subtle energy blocks and clear the main nadis (energy channels). It eases up the breathing process and gives awareness to the breath throughout the day. A regular practice results in purification and increased energy.
During your 300 hour yoga teacher training, you will learn the following techniques:
Bhramari
Nadi Shodan
Kapalabhati
AnulomVelom
Sitkari
Bhastrika
Chandrabhedana
Suryabhedena
You can expect to learn how to teach pranayama as well and incorporate it into your yoga classes.
3. Mantra Chanting (Sacred Sounds)
Mantras are traditional sounds of the universe which generate healing vibrations. Chanting mantras balances the chakras and connects you to yourself and everyone else. This part of the teacher training empowers a positive learning environment and group energy.
During the 300 Hour Yoga Teacher Training, you will learn:
OM Chanting
Gayatri Mantra
SahnaVayatu
Vishnu Mantra
Shiv Mantra 
Treyambakam Mantra
Gurudev Mantra
Shiva Shambo
Hare Krishna
4. Mudras and Bandhas (Gestures and Energy Lock)
Mudras, the hand gestures and Bandhas, the energy locks, are both used in yoga to stimulate the energy flow and expand the breathing capabilities. During the 300 hour yoga teacher training, you will learn about the detailed benefits of each Bandha and cover Chin, Gyan (Chin), Anjali, Dhyana, Shuni and Surya Ravi Mudra.
Dhyana promotes a clear mind, strength and a radiating energy. A regular practice encourages transformation, self-love and bliss. This part of the teacher training gives you the opportunity to reflect and discover yourself.
The 300 Hour yoga teacher training covers:
Power of Transformation Breathing
Kundalini Meditation
Silent Meditation
Conscious Meditation
Theory and Meaning of Meditation
Scientific and spiritual benefits of Meditation
Awareness expansion
Osho Meditation
Candle Meditation
6. Shatkarma (Yogic Cleansing)
Shatkarma is also known as the six actions in yoga. These actions are of great importance to prepare the body for the higher yoga practice and remove accumulated mucous from the nadis. Through Shatkarma, the yogic cleansing practice, you will be able to breathe better and feel more relaxed.
During the 300 hour yoga teacher training you will learn:
Jal Neti
Sutra Neti
Dhauti
Trataka
Kapalabhati
The anatomy classes aim to provide you with an advanced understanding of human physiology. You will learn about the different body systems and their relation to yoga and asana. This module includes theoretical, visual and interactive aspects to prevent injuries and promote harmony.
During the 300 hour yoga teacher training, you will cover:
An Introduction to the physical body
The spiritual body
A relationship between the body systems
Health according to Yoga
The Muscular system
Skeletal System
Respiratory System
Cardiovascular System
Digestive System
Nervous System
Yogic Philosophy connects your practice to the theoretical wisdom behind it. Studying the Vedas, Gita or Patanjali Yog Sutras in-depth allows you to establish a broad and solid understanding of the path of yoga which you can apply to your own life and relationships.
During the 300 hour yoga teacher training, you will cover:
Introduction to Yogic Philosophy
Principles of Ayurveda
Yamas and Niyamas
Patanjali Yog Sutras
Bhagavad Gita
Concept of PanchVritti & PanchKlesha
Kriya Yoga- A way to overcome inborn afflictions
Ashtanga Yoga- A methodology to overcome suffering
Introduction to Samkya Philosophy
Karma
Samadhi
9. Emotional Blockage® Treatment
As human beings, we go through different kinds of emotions in our life. Emotions, ways of expressing ourselves, can be positive and negative. Sometimes, when we experience anger, stress, sadness or fear, we suppress these feelings due to shame or expectations. Such suppressed emotions accumulate inside our body at various parts such as thighs, buttocks, calf muscles, hamstrings and back. These accumulated, suppressed emotions become energy blockages which can trigger mental and physical disease including depression, fatigue and body ache.Through Emotional Blockage® Treatment we can remove such accumulated energy blocks and feel more light, free and relaxed. Negativity is removed efficiently and the body becomes more flexible.The Emotional Blockage® Treatment was invented by Swami Bipin Gyan.It is an optional part of the 300 hour yoga teacher training and requires discipline and surrender
For yoga teachers or aspiring teachers, teaching methodology is an important and fundamental part. In this module, you will gain a complex knowledge:
Plan and design your class
Structure your class
Sequencing
Right Setting
Creating a positive energy
Time Managemnt
Obervation
Reflection
One-on-One feedback
Use of Voice and Language
Importance of Content
Attention distribution
Apply the right techniques in different situations
Adjust according to health issues (pregnancy, diabetes, chronic diseases) 
11. Applied Ayurveda & Karma Yoga
Applied Ayurveda means that you will move from your theoretical knowledge of Ayurveda into practice. During this class, we will teach you how to:
Make Ayurvedic liver detox tea
Do Ayurvedic face and hair masks
Do Ayurvedic Gardening
Detox your body according to Ayurveda
Make Tulsi and herbal Tea
Karma Yoga means selfless action. Here we will take some actions for humanity and common wealth.
The course fee of our 300 hour yoga teacher training in India is: 2500 USD per person or 4300 USD for two people booking together
Current Early Bird Discounts
Book your seat 2 months before course start & the fee will be 2400 USD or 4100 USD for two students
Book your seat 3 months before course start & the fee will be 2350 USD or 3900 USD for two students
Book your seat 4 months before course start & the fee will be 2200 USD or 3700 USD for two students
Bring one friend or partner and receive (each) 100 USD off additionally
Bring two friends and receive (each) 150 USD off additionally
25 nights shared accommodation with attached bathroom and hot water
One-way taxi transfer from Dehradun Airport to Rishikesh
Two nutritious (vegetarian) meals per day + unlimited fresh fruits
1 White School T-Shirt
4 Yoga Course Books and one Teaching Manual
2 Course Booklets
9 Course PDFs prior to course begin via email
Teas and filtered water
1 Sunday Outing
Yoga Alliance Certification after completion
Yogic Cleansing kit
A new Yoga Mat
One Indian Mala (Rudraksh Necklace)
Farewell Gift
Access to Read-Made Lesson Plans
2 Ayurveda Consultations and Pulse Diagnose by Dr Kumar
Please note: for a private room or AC/heating we charge 200 USD extra for each.
Students who already completed their 200 Hour residential or any Online Yoga Teacher Training with Gyan Yog Breath can inquire for a graduate discount
During your 300 hour yoga teacher training, you will be served two delicious vegetarian meals per day. All meals or prepared freshly with seasonal and healthy ingredients according to the yogic diet.
We do not serve any frozen or processed foods.
10 AM brunch: Oat with home-made soy or coconut milk, fresh fruits, Porridge, Dalia, Poha, Indian brunch or home-made bread & peanut butter.
1:00 PM Fruit Meal & Tea: Enjoy seasonal fruits like mango, papaya, banana, pineapple, apple, pear or jackfruit and herbal tea as refreshing and energising snack before your next class. These are available for you all day long!
7:00 PM Dinner: a variety of vegetables, tofu, paneer, rice, chapati, soups, salads, pulses, dhal, chutneys and curries.
During summer season, we occasionally serve home-made mango or banana ice-cream.
If you have any intolerance or allergy, please inform us in advance.
Please be aware that we live in an ashram environment. We value respect, kindness and compassion. READ MORE 
The deposit fee must be paid in advance and is non-refundable.
The remaining balance has to be paid on arrival.
We do not serve any meat, fish or eggs.