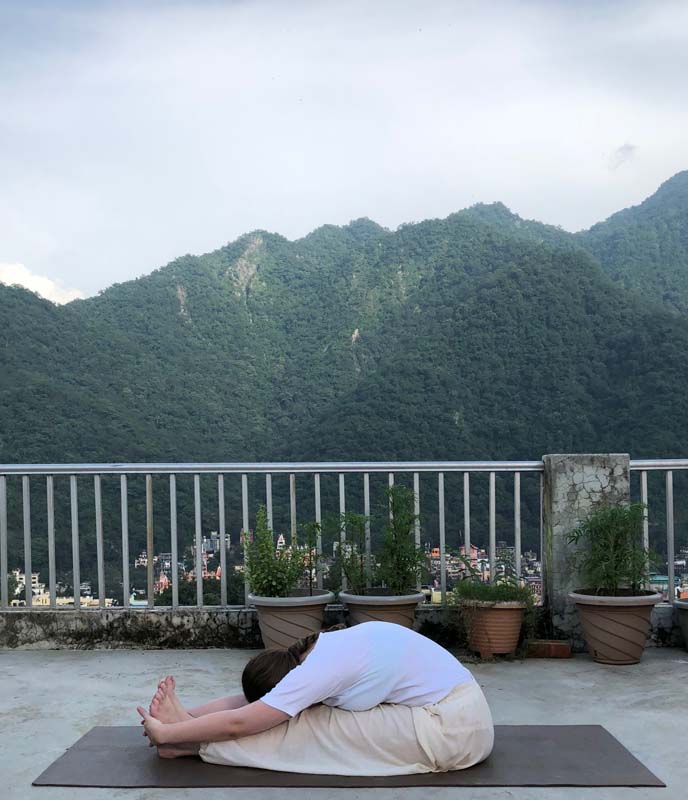 Paschimottanasana is also known as seated forward bend or fold. This posture is great to increase the flexibility of your hamstrings and calves. It also stretches your lower back and calms the mind.
Instructions:
Sit on your mat in Dhandhasana
Close your legs together and activate your knee caps
Your toes should point towards the ceiling
Straighten your spine
Inhale deeply and bring your arms up
Exhale and fold forward
Bring your chest onto your thighs
Catch your feet with your hands
You can interlock your hands behind your feet or grab your ankles
Maintain your legs straight
Don't bend your knees
Try to rest your forehead on your shins/knees
Take a few deep breaths here
You can make this posture a little more dynamic as well. As you inhale bring your upper body up and stretch your arms up towards the ceiling. As you exhale bend forward and rest in the final pose. Use your breath for this up and down movement and continue it for 10 to 15 breaths.
Benefits of Firefly Paschimottanasana:
Improves flexibility in legs and back
Stretches the back
Tones the abdomen
Massages the internal organs
Improves digestion
Removes constipation
Cautions:
Please avoid this posture if you have any lower back injuries.
To be sure that you practise an asana correctly, we recommend participating in our Yoga Teacher Training Program.