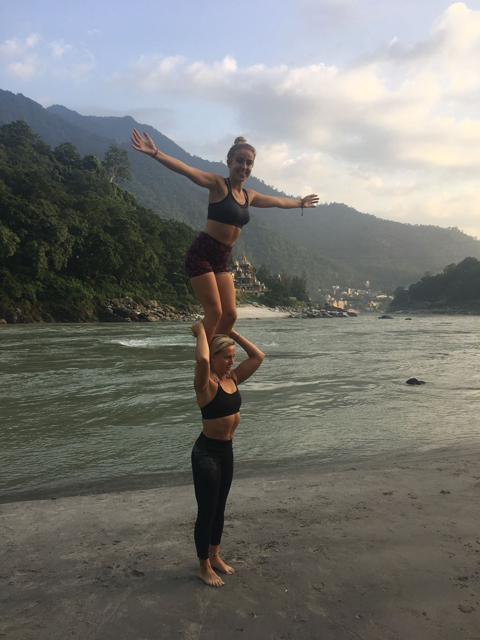 How a Yoga Teacher Training in India can Improve you Personal and Professional Life
Uncovering the layers of yoga requires time, patience and commitment. The ancient wisdom and art of creating union within us, leads us to expanded consciousness and sharp senses. Building up a connection to our inner wisdom and intuitive flow does not only affect our perception, but has a huge impact onto our personal and professional life.
Joining a yoga teacher training in India offers you the all-around-package. You get the opportunity to study the yogic scriptures, learn from authentic masters and dive into the unknown dimensions of yourself, past and present.
Surrounded by yogic energy, peaceful scenery and like-minded people supports your growth and evolution as a unique individual and teacher. A yoga teacher training in India at Yoga India Foundation, enables you to gain a clear vision and improve your creative expression.
Immerging yourself into daily body-balancing and mind-calming practices like asana, pranayama, shatkarma and meditation encourages profound transformation through which you can obtain an enriching personal and professional life.
Shifting one's perspective and implementing a feeling of bliss into the daily life, fills your soul with happiness, ready to achieve your dreams.
A yoga teacher training in India connects your true identity and lets your inner light shine bright.
On a professional level, no matter which career your pursue, an intensive yoga teacher training in India will provide you with improved concentration and the ability to act and think intuitively.
A yoga teacher training in India can help you to find out what you really want and strive for.
After completing a yoga alliance registered 200 Hour Yoga Teacher Training in India for example, you will be certified as 200 Hour Yoga Teacher according to the Yoga alliance standards which gives you the opportunity to share your passion of yoga with your students.
Whether you desire to grow personally, establish yourself as a yoga teacher or simply do something for yourself away from home, a yoga teacher training in India will be the perfect experience.
Taking time to unplug from the busy lifestyle, re-charging your batteries and investing into your health and mental well-being should have priority!
A 200 Hour Yoga Teacher Training in India at the Yoga India Foundation
Yoga India Foundation is one of the most well-known yoga schools in India. The foundation has specialised in providing excellent yoga education to international yoga practitioners.
The award-winning teachers and gold medallists hold master an PhD degrees in Yogic Science, Ayurveda and Vedic Scriptures.
Completing your 200 hour yoga teacher training in India at Yoga India Foundation does not only provide you with a comprehensive knowledge about yogic science; it lets you advance your yoga practice to professional levels and gain a high-quality expertise with which you can start your own career.
The 24/7 post-education assistance is responsible to help you obtain work or clarify question after your yoga teacher training program.
How a Yoga Teacher Training in India can Improve you Personal and Professional Life
| | |
| --- | --- |
|  Personal Benefits | Professional Benefits |
| Gain a clear vision | Obtain a complex expertise |
| Connect to your authentic self | Become a certified international yoga teacher |
| Build healthy relationships | Register a RYT-200 |
| Enjoy physical and mental health | Open your own yoga studio or work as an employed teacher |
| Detox, Restore & Destress | Establish a confident and clear mind set |