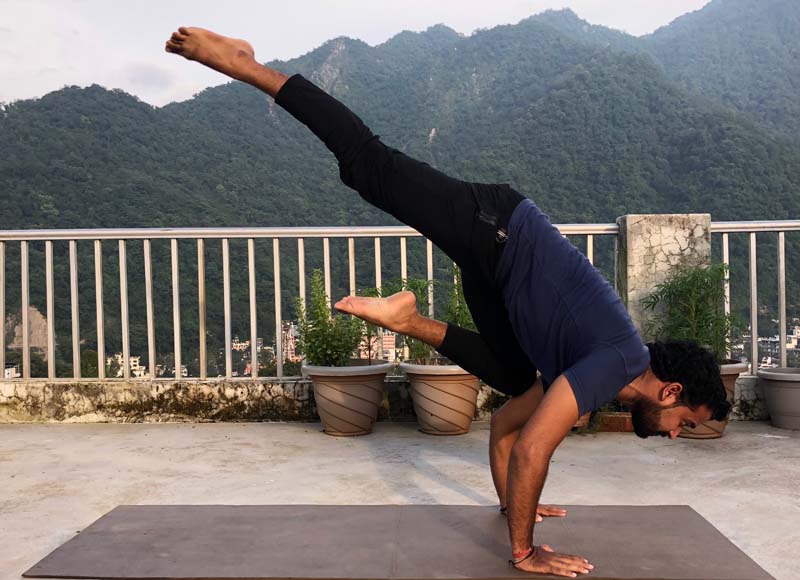 Eka Pada Koundinyasana is a tricky posture that needs some time and patience to be mastered. With this posture, it's most important to follow the right steps as some little tips will make it much easier to get into it.
Here are the instructions for you:
Bend your knees
Take your left knee to the floor
Turn your left foot to the right side
Sit on the heel
Put your right foot over to your left thigh
Place it beside your left knee
The right knee points toward the sky
Now twist
Bring your left waist and shoulder around to the right
Put your left armpit down
Straighten your left elbow and put your left palm down
Your hands should be shoulder wide apart
Most of the weight should be on your knees and foot
Lift your hips and knees
Lean slightly forward
Move your head and shoulders towards the floor
Finally, straighten both knees and activate your legs
Note: This is an advanced yoga posture and should be practised under the guidance of a qualified and experienced teacher. You can use a block or bolster for support.
Benefits of Eka Pada Koundinyasana:
Strengthens the arms, shoulders, hands, knees and hips
Improves the digestion and reduces excess body fat
Promotes overall balance and stimulates the nervous system
Cautions:
Please avoid this posture if you suffer from knee, wrist or hip injuries.
To be sure that you practise an asana correctly, we recommend participating in our Yoga Teacher Training Program.
Learn More About Yoga Courses