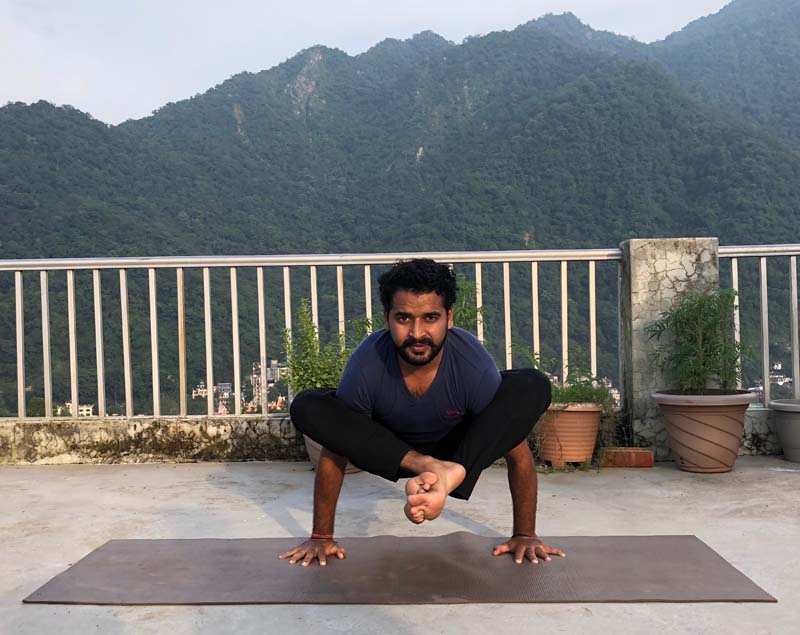 Bhujapidasana is a level 1 posture that requires more correct alignment than physical strength. You should practise Garduhasana, Malasana and Bakasana as preparatory poses to get ready for this one!
Instructions:
Stand with your feet hip wide apart
Squat
Tilt your torso forward
Keep it between your thighs
Press your hands onto the floor and keep the fingers spread like a sea star
This will be your foundation
Now take a jump and bring your calves behind your upper arms
Catch your arms with your legs
The knees should be near the elbows
Find the balance here and try to hold the position for at least 15 seconds
TIPP: Adho Mukha Svanasana and Utthanasana are great follow-up postures!
Benefits:
Tones the abdominal muscles and internal organs
Improves overall balance both mentally and physically
Increases strength in arms and wrists
Cautions:
This posture should be avoided if you have any shoulder, elbow, wrist or lower back injuries.
To be sure that you practise an asana correctly, we recommend participating in our Yoga Teacher Training Program.